Ahhh! You must see Ke Huy Quan's Oscars speech! (cue tears & tissues)
Ke Huy Quan has starred in some of Hollywood's biggest blockbusters!
Indiana Jones, The Goonies, Loki and latest Hollywood sensation, Everything Everywhere All at Once.
Watching him win, it's hard to imagine him as a young child, squished on a boat, forced to flee his home country, desperately needing safety and a place to build a future.
His moving Oscar speech beings like this...
"My journey started on a boat.
I spent a year in a refugee camp.
And somehow, I ended up here, on Hollywood's biggest stage.
They say, stories like this only happen in the movies.
I can not believe it's happening to me.
This, this is the American Dream!"
Credit Reuters
As Ke Huy Quan took the stage to accept his Oscar, an estimated 32.5 million refugees worldwide were looking for their version of the 'American Dream'.
For safety, a home and a place to build a future, mostly for their children.
In 2022, UNHCR estimated the world's displaced population had surpassed the 100 million mark for total displacement, meaning that over 1.2% of the global population have been forced to leave their homes.
Just yesterday, 11th March, 2023, 1000 people were rescued from boats and bought to the shore of two Italian ports.
Refugees teach us that, the 'American Dream' is much less about geography and more about places that offer hope and opportunity.
As conflict, political instability and economic collapse increases worldwide, this dream has expanded beyond America's borders to include, the 'English, German, Canadian or Australian' dream.
Anything, Anywhere at least with... access to jobs, healthcare, education, equality and peaceful communities.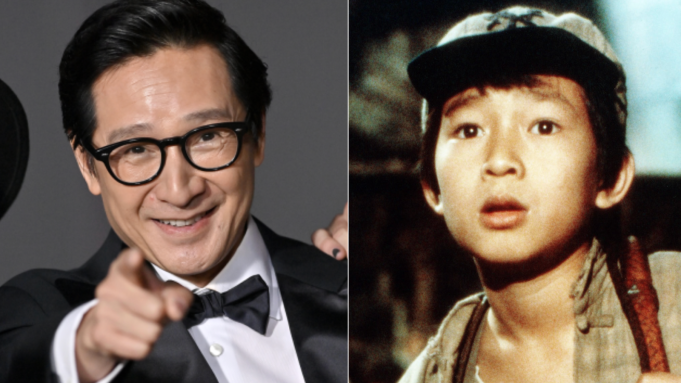 The 'American Dream' is a Hollywood story. One of danger, exploits, desperation, hope, belief and that one-in-a-million chance.
Pop culture and Hollywood have promoted this story of overcoming and chances for a long time.
For millions of children living in dangerous places, they watch films and this seed of hope is planted.
We saw this first-hand in Honduras last year.
We met children as young as eight who made the unfathomable decision to leave their homes and families. Under the cover of the night, they met at their designated spot to join a migrant train, alone, in pursuit of the US border and the 'American Dream'.
All of the children we met were sent back.
Heartbroken, traumatised and hopeless for their future.
They didn't want an Oscar, just an education and the ability to make money to send home to help their families, as a child.
Their determination and sacrifice are beyond comprehension and also completely heartbreaking.
This is not childhood!
Press play & cue, disbelief then... inspired action!
Does Key Hu Quan's American dream exist for refugees anymore? We're not experts but no doubt the world has changed significantly since that little boy got on a boat to the USA.
But we do know that the need for safety and a future definitely exists for millions across the world.
Childhood Rescue works in the world's most dangerous and complex places. Places most people regrettably want to leave, but can not.
We work to ensure children survive, communities can begin to recover and one day, hopefully, together they build a safe future.
Not many refugees get an Oscar, but together we can work to ensure refugees and displaced people can have dignity, agency and the tools to someday build a future.
What can I do?
Here's three ways for you to go a little deeper - chat, act or share!
1

Ask a Question

Got something you don't quite understand? Ask a question and we'll get you an answer direct from our amazing project staff.

Ask Away

2

Donate

Every gift makes a difference. Our Childhood Rescue fund helps children living in the world's most dangerous places.

Donate Now

3

Share on Social Media

Raising awareness is vital. Help make people aware of the situation and the difference we can make, together.